IT is alive ...
The Little Bit
"This room and its history will continue to evolve and bring you new ideas on stage, and production." -Captain AR
Over 6500 Hours of 3D Film have been shown with MONSTER at The Little Bit
We had 3D for 15 YEARS !!!! Since 2001
Enjoy Do It Yourself Performance like no other, experience MONSTER
Our VIP features include IMAX, as they say when the people behind the scenes all meet, the convergence of all learning things interactive, film and music are created.

IMAX Features will take you to the past, show you the present, and inspire you to create the future.
Play sense intensive games.
Enjoy Gourmet Food, and Feisty Beverages
Sit back, Kick back, Relax, on our Front Row Pillow Top Seating.
Let the Host with the Most cater to your entertainment.
Sure, your phone is your world, at TLB, we bring the world LIFE SIZE right before your eyes, for the enjoyment of others around you, please be considerate and free yourself from your phone for the duration of a life changing presentation.
As the host, when the feature is at run, I power Off the outside world completely as I am dedicated to YOUR entertainment, I would ask for anyone that has contact with the outside world to say, hey, I will get back to you in a while, and when you do get back to them, tell them all about THE LITTLE BIT, where it is never the same experience twice.
Whether you bring snacks or drinks to the party house, and dedicate it to the cause, we gladly accept donations, as TLB is a NON PROFIT EVER organization, we never charge for anything as everything is community driven, this includes TLB Live where we bring the party to you as live performance; however, gratuity is always accepted, THANK YOU ALL FOR ENJOYING THE EVENT!!!
Any small challenges? I DARE YOU, we are always up for a challenge. It is professional venue versus TLB!!! We actually have a motto: LOW TECH GONE WILD!!! Just ask anyone who has enjoyed a visit with MONSTER.
Raspberry Pi, THE NEW TINY COMPUTER SYSTEM, developed for everyone, direct for those learning how to write code, program, and improve the tech world one innovation at a time. Two Astro Pis have been onboard the ISS orbiting Planet Earth for two years thus far.
The Little Bit uses "Do It Yourself" philosophy from day one, back in 1990, a small inspiration lead to MONSTER. TLB has been showing 3D films for more than 15 years and has entertained countless masses.
"The Little Bit" continues its proud tradition to hold "Exposition Day" (Friday, Saturday, Sunday) to feature more 3D films, Games, Concerts, and IMAX.
FIREWORKS! BLOCK PARTIES! THEME SHOWS!
3D / 4D MOVIES! LAN PARTIES!, JAM SESSIONS! EXPOSITION DAYS!
Backyard Wave Pool with Slippery Water Slide! Pool Parties, Wood Patios, Pillow Fights, Mini Golf, Bumper Cars, LEGOS, lots of LEGOS, 100 Pin Bowling! NERF FOAM WARFARE!!! << BOOM >>
Make your reservation now !
DO IT, DO IT NOW !!!
Call us at 772 8072295
By CAR, 0609.11, updated 1103.22, updated 1207.09, updated 1401.29, updated 1408.14, updated 1605.27
Here is what is happening RIGHT NOW at The Little Bit:
The MONSTER project will soon include "RideFilm Mode".
GAME TIME, Immersible, Enthralling, Captivating,
IT JUST PLAIN KICKS ASS !!! (Special of the day: LAN Party)
THE LITTLE BIT, where electricity and envy both happen !
"Do It Yourself" performance like no other...
You can always email us for information PixelRGB@netzero.net
(Please specify "TLB Eday" in the Subject when inquiring, I mean it, if you
write to us, and the subject is other than TLB Eday, it all goes to our hatemail.)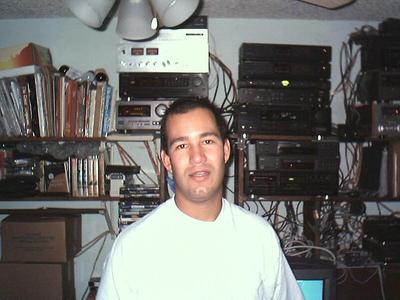 MONSTER

is an acronym for:
Multimedia, Operational, Network, System, Technology, Extreme, Revolution
The Little Bit: Where all audio channels are all bi-amped !!!
The Little Bit: Where we feature the BORDERLESS Screen.
The Little Bit: Where we use 3 HD DLP Projection Cameras.
The Little Bit: Where part adventure, part comedy, part drama, part horror play at the same time.
The Little Bit: LOW TECH GONE WILD !!!
Welcome to Exposition Day, I am the HOST with the MOST.
It takes several hours to wire components On or Off the stacks.

It takes me more time to configure them autonomously through the computer.

When it all works, it all works Synergistically well.
Over 4 miles of copper wire are in this room.
Only a few feet of FiberOptic Glass Wire tap the mains of the stacks to the computers.

There are no wireless signals in MONSTER due to data compression and purity control of the feed content. The end result is an totally immersive experience, with a little help from your imagination.
One day we will use the "HOLODECK" from Star Trek: The Next Generation.
The Little Bit:
Low tech Gone Wild !!!
Whats in the works:
TLB is my testbed, if I can do it in here, I can do it out there, (Good Talent Low Cost Production, Well Received Shows)
Stage Concerts from Classic Fine Arts to Contemporary Hits

A/V Support, Stagehand, Sound, Lighting, Photography, Motion Picture Recording, Editing, Production.

Live Events, DJ, for cause, representation, or just to jam it out

In the end, I offer my services to ENTERTAIN and INSPIRE everyone just to try harder and "Do It Yourself".
With all this in check, everyone is mezmorized forever.
-- THIS JUST IN!!! LINUX POWERED HTPC
You read right, LINUX has been discovered to work wonders on my newest HTPC (Home Theater Presentation Computer) TLB is all about openware, worldwide low cost, high result research and development. That is why Linux UBUNTU was the OS to make the MONSTER roar!!!!! In it's own revolution with Open Source Code WORLDWIDE, the humanity factor behind all of this brings out the best in all of us.
Soon, the computers we will use will work as fast as thought!!! LINUX unites us in a special way.
Just as the Personal Computer (PC) was created better in a many car garages everywhere, we now continue as many roles engineering better ways to use what we have now.
Low Tech Gone Wild (as we say here) means "We DO the BEST we CAN with WHAT WE HAVE, where WE ARE."
The Little Bit
Conservatory of Self Conscientiousness
University of Self Reliance
School of Superthoughtfulness
It is, basically, Teach Yourself so you can
Do It Yourself.